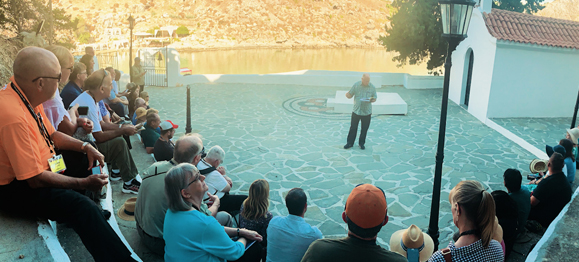 The island of Rhodes is 542 square miles, located twelve miles off the southwest coast of modern-day Turkey. 
The Apostle Paul came to this island during his third missionary journey, as recorded in Acts 21:1: "And it came to pass, that after we were gotten from them, and had launched, we came with a straight course unto Coos, and the day following unto Rhodes, and from thence unto Patara."
Paul's arrival to Rhodes was just after his meeting with the church leaders from Ephesus at Miletus, as he bid them farewell.
As we were on Rhodes, I kept thinking about the incredible scope of ministry God allowed the Apostle Paul to have as he preached the gospel and established churches over thousands of square miles. And it was all due to the power of the gospel and the work of the Holy Spirit through a yielded servant of the Lord. 
I hope this video is encouraging to you to be faithful in sharing the gospel and and in trusting the Holy Spirit to work in hearts. 

(If you cannot view this video in your email or RSS reader, click here.)
This post is the fourth in our video tour. The earlier posts are listed below: