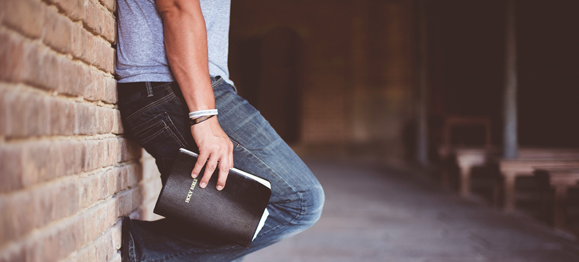 Recently, I heard a message by a well-meaning speaker teaching teens how they could "earn value with God." The lesson was particularly confusing because when he used Scripture to teach on our value with God, he rightly said that our value is shown by the price Jesus paid for us. We have done nothing to earn God's grace or His sacrifice for our salvation, yet His sacrifice reveals how much we are worth to Him.
But then the youth pastor pivoted and began teaching how after salvation, young people can increase their value with God. He gave an illustration that basically said, "Your salvation is a gift, but after that, it's up to you to earn value with God." The good things you do—his suggestions included going to church, reading your Bible, attending teen soulwinning, honoring your parents, joining the choir, and going to Bible college—make you more valuable to God. Conversely, he told us, when we choose to do things that dishonor God, we devalue our lives before God.
It is true that there is value in obeying God and serving Him. But it is not true that the things we do for God make us more valuable. 
I believe in sanctification, service, and godly living. I believe that God's grace leads us to deny "ungodliness and worldly lusts" (Titus 2:12). And I have written many times against teaching a distortion of grace that denies the importance of obedience or would cause others to stumble. I also understand and teach that purging from ungodliness makes us "meet for the master's use, and prepared unto every good work" (2 Timothy 2:21).
But the type of teaching that says, "God gives you salvation, but now you have to earn greater value" is doctrinally problematic and personally hurtful. In one shape or form, most of us have been affected by this teaching and man-centered philosophy. Although I don't hear it as often as I once did, it is still found in certain corners of the independent Baptist movement.
Many of us have been able to biblically grow through it, identifying the fallacies and establishing our worth by our identity in Christ. I've written before about the danger of basing our acceptance on our accomplishments or performance. (See here, here, here, and here.) 
But teaching that says "You must earn value with God" leads to bondage and frustration…as well as to many leaving the ministry contexts and affiliations in which that was taught. 
Why should we avoid any teaching applications that suggest we earn value with God? 
1. It's doctrinally incorrect.
The truth is that I am already accepted in the Beloved (Ephesians 1:6) and complete in Christ (Colossians 2:9). God tells us to "grow in grace" (2 Peter 3:18). Grace is the inner disposition of God in our hearts, and it motivates us to "both to will and to do of his good pleasure" (Philippians 2:13). But this is a process that begins from the inside out, not from the outside in. 
Grace is a process that begins from the inside out, not from the outside in.
Click To Tweet
2. It's demeaning.
Value-by-performance teaching tells people they're only really valuable if they are "doing." It's performance-based acceptance. But we are not to serve the Lord to prove anything; we serve because Jesus paid everything. It is the love of Christ that constrains us to serve (2 Corinthians 5:14). 
Our worth is not achieved; it is received. And our value is not based on our performance; it is based on God accepting us into His family. 
Our worth is not achieved; it is received. Our value is not based on our performance; it is based on God accepting us into His family.
Click To Tweet
3. It's divisive.
Teaching like I heard creates a sense of pharisaicalism in those influenced by it. The teens who outwardly do more (and particularly where "more" involves visible involvement in church-affiliated capacities) will consider themselves more valuable than others. The unscriptural, unhealthy comparison, with all of its pride and division, will continue into a new generation of young people. 
In the end, however, it leads to the kind of divisiveness that lightly esteems another Christian whom Christ has redeemed. "But why dost thou judge thy brother? or why dost thou set at nought thy brother? for we shall all stand before the judgment seat of Christ" (Romans 10:14).
4. It's demoralizing.
Under this legalistic system of earning worth, you can never be valuable enough. There will always be more ways you can earn worth, and there will never be clarity on to what extent failure deducts from your worth. This has discouraged many young people to completely leave churches who pressure them in this system.
But when the emphasis turns to the biblical motivation of grace, everything changes. When I am motivated by grace, I don't have to earn worth, I serve out of love and gratitude.
I think of our church family as an illustration of this truth. Lancaster Baptist Church has been one of the most generous churches in modern American history. We're not a wealthy church by any means. Yet, our church has been generous in missions giving, church planting, and outreach, with increases each year. We've been careful to never motivate giving by guilt, but have emphasized that giving is a grace (2 Corinthians 8:1–8). Thus, as our church family has grown in grace, we have also grown in giving. 
Similarly, young people who are challenged to serve Christ out of gratitude and by grace are going to serve Him longer, with moral intention, and with joy. But young people who serve to find more value from God ultimately get discouraged and fall into sin and lifestyle patterns that pull them away from the Lord. 
It was the grace-based motivation for service that enabled Paul to say of his upcoming persecution, "But none of these things move me, neither count I my life dear unto myself, so that I might finish my course with joy, and the ministry, which I have received of the Lord Jesus, to testify the gospel of the grace of God" (Acts 20:24). 
Earlier this week, I had dinner with Dr. Don Sisk—a man who has been so greatly used of God in our generation. Dr. Sisk used to be a pastor, then a missionary, then the director of Baptist International Missions, Inc. He used to be able to knock many doors with the gospel and travel extensively as he preached to challenge Christians for the cause of worldwide evangelization. Today, Dr. Sisk is still faithfully preaching and sharing the gospel. But, at eighty-six years old, he is not able to do nearly what he once did. He is no longer a pastor or the active director of BIMI. He's not on the mission field planting new churches. And he's not able to travel as often as he used to. Does this mean that he is less valuable? Does a lack of service mean he is earning less value with God? Of course not. 
Don't try to earn your worth with God. And please, please don't tell others they can. 
Let the love of Christ in the gospel motivate you. When God's grace, as opposed to our need for acceptance, becomes our motivator for service, everything changes. We serve because we are accepted rather than to gain acceptance—and it makes all the difference in the world.
When God's grace, as opposed to our need for acceptance, becomes our motivator for service, everything changes.
Click To Tweet