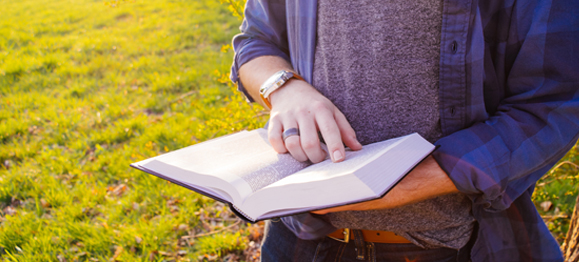 The gospel itself is the death, burial, and resurrection of Christ for our sins (1 Corinthians 15:3–4). But for those of us who have believed the gospel and received Christ, the gospel has life-changing implications. 
And for those of us in ministry—which should be every Christian, even if not in a paid, vocational position—the gospel is our very motivation. "For the love of Christ constraineth us…" (2 Corinthians 5:14). 
The classic chapter on the gospel's implications of ministry is 2 Corinthians 4. Through both instruction and personal testimony, Paul tells us in this chapter how we are to live as gospel ministers and what gospel ministry looks like in the trenches of daily service. 
This chapter is rich, and I would encourage you to read it in its entirety…multiple times. But for this blog post, we'll just look at the first five verses and from them draw five implications of gospel ministry:
1. Faithful like Jesus
Therefore seeing we have this ministry, as we have received mercy, we faint not;—2 Corinthians 4:1
How is it that gospel ministers can determine not to "faint" or give up, in spite of the obstacles?They have received God's mercy, and it enables them to continue in steadfast service—like Jesus. 
In fact, looking to Jesus enhances our faithfulness. 
Looking unto Jesus the author and finisher of our faith; who for the joy that was set before him endured the cross, despising the shame, and is set down at the right hand of the throne of God. 3 For consider him that endured such contradiction of sinners against himself, lest ye be wearied and faint in your minds.—Hebrews 12:2–3
Looking to Jesus enhances our faithfulness.
Click To Tweet
2. Separated from deceit
But have renounced the hidden things of dishonesty, not walking in craftiness…—2 Corinthians 4:2
Gospel ministry isn't about tricking someone into salvation. Even as we use the term "soulwinning," we know that we don't "win someone over" to Christ. Rather, it is the Holy Spirit who uses His Word to bring conviction that wins souls. We are simply the mouthpiece.
And since the gospel itself has power (Romans 1:16), we can renounce all "dishonesty" and "craftiness" as we present the gospel. This is what made Paul's ministry so powerful. He simply preached the gospel (1 Corinthians 1:23). 
Remember, however, that the "power of the gospel" goes with the "afflictions of the gospel." 
Be not thou therefore ashamed of the testimony of our Lord, nor of me his prisoner: but be thou partaker of the afflictions of the gospel according to the power of God;—2 Timothy 1:8
Some of the "things of dishonesty" and "walking in craftiness" of ministry in our day comes in the form of churches unwilling to give a forthright answer or take a solid position on the moral issues of the day. Don't be ashamed of the "stigma" of being a Bible-believing, truth-preaching, gospel-proclaiming minister. 
3. Sound in the Word
…nor handling the word of God deceitfully—2 Corinthians 4:2
What do we do instead of handling the Word of God deceitfully? We divide it rightly!
Study to shew thyself approved unto God, a workman that needeth not to be ashamed, rightly dividing the word of truth.—2 Timothy 2:15
It is the Word of God—not our clever phrasing—that has power to convict hearts (Hebrews 4:12). Thus we must study God's Word diligently and use it faithfully. 
This is why our church has committed that every aspect of our ministry—from children's ministry to adult connection groups—must be based on Scripture and on equipping our church family to know and apply God's Word. Our goal in church ministry is not simply to have coffee and activities, but to ground people in the Word of God. 
If you want to have gospel-driven ministry, know and use God's Word. 
If you want to have gospel-driven ministry, know and use God's Word.
Click To Tweet
4. Living the truth
…but by manifestation of the truth commending ourselves to every man's conscience in the sight of God.—2 Corinthians 4:2
Paul's lifestyle matched his message….and those he ministered with and ministered to knew it.
To Timothy, he wrote,
But thou hast fully known my doctrine, manner of life, purpose, faith, longsuffering, charity, patience,—2 Timothy 3:10
And to the church at Corinth, he wrote, 
For our rejoicing is this, the testimony of our conscience, that in simplicity and godly sincerity, not with fleshly wisdom, but by the grace of God, we have had our conversation in the world, and more abundantly to you-ward.—2 Corinthians 1:12
Thus, on both ends of Paul's ministry—those joining him in service (Timothy) and those who received his ministry (Corinth)—saw Paul living the truth he preached. 
Our lives can be a manifestation of the truth, or they can obscure the truth. 
5. Spreading the gospel
But if our gospel be hid, it is hid to them that are lost: In whom the god of this world hath blinded the minds of them which believe not, lest the light of the glorious gospel of Christ, who is the image of God, should shine unto them. For we preach not ourselves, but Christ Jesus the Lord; and ourselves your servants for Jesus' sake.—2 Corinthians 4:3–5
It may seem obvious, but a gospel ministry is one that actually spreads the gospel. It is not simply a ministry in which the people in it believe the gospel and talk about how to live the gospel, or a matter of simply attaching the word gospel to everything we do. 
In fact, we could say that a determining indicator of if you are living a gospel-centered life is if you are living a gospel-sharing life. According to the verses above, it is a contradiction to say that our lives are centered on the gospel if we are not actively sharing it with the lost. 
It is a contradiction to say that our lives are centered on the gospel if we are not actively sharing it with the lost.
Click To Tweet
Gospel ministry takes place when we share the gospel with people and then help them reshape their lives according to the gospel's implications.