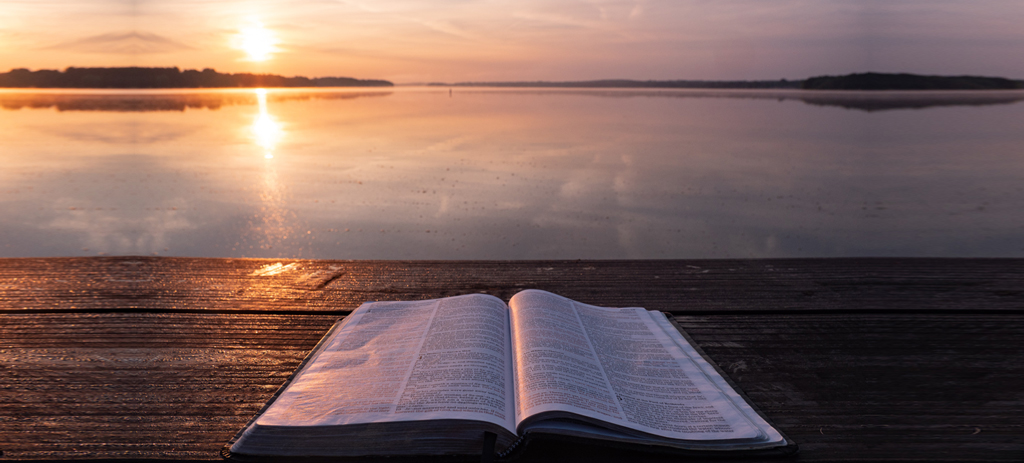 There aren't many things you can be assured of these days. Here we are less than two weeks into the new year, and there is already talk of yet another covid variant. Listen to any news program, and you will feel worse after than you did before you started. Fear, chaos, and uncertainty are on the rise. 
But those of us who know Christ can live with peace. Assurance. Rest in our souls. 
How? 
Blessed assurance comes through biblical focus. If you focus on the events surrounding you, your peace will evaporate. If you focus on the real and guaranteed truths of God's Word, your peace will flourish.
A daily sense of blessed assurance comes through a daily determination to biblical focus.
Click To Tweet
Here are ten scriptural keys to living at peace without anxiety. 
1. The Lord is my shepherd. If Christ is my shepherd, He will supply my every need.
The LORD is my shepherd; I shall not want. (Psalm 23:1)
2. Jesus is already there—in my tomorrow. There are no surprises to God. The same God who has helped you in the past goes before you into the future. He knows the way, and you can trust Him. 
The LORD your God which goeth before you, he shall fight for you, according to all that he did for you in Egypt before your eyes; (Deuteronomy 1:30)
3. The steps of a good man are ordered by the Lord. God not only knows the way you go, but He specifically orders your steps. Every decision you make, crisis you face, ordinary day you trudge through, the Lord is delighting in and ordering your path.
The steps of a good man are ordered by the LORD: and he delighteth in his way. (Psalm 37:23)
4. There is no condemnation in Christ. People may accuse you falsely. Your own heart may condemn you rightly. But when Christ forgave your sin, He cleansed you thoroughly. He does not condemn you. You can rest in His forgiveness.
There is therefore now no condemnation to them which are in Christ Jesus, who walk not after the flesh, but after the Spirit. (Romans 8:1)
5. Surely goodness and mercy shall follow me. Have you ever known an Eeyore—someone who was always sure bad news was just around the corner? Whether you are naturally an optimist or a pessimist, you can be sure that your Good Shepherd has goodness and mercy following you every day of your life. 
Surely goodness and mercy shall follow me all the days of my life: and I will dwell in the house of the LORD for ever. (Psalm 23:6)
6. I do not need to be anxious. Anxiety is tricky because it makes us think that if we engage in it, we will change the outcome of our circumstances. Not only is that untrue (nothing is changed by worry), but it is unneeded. We have a Heavenly Father who cares for the birds. How much more will He care for the needs of His own children? 
Therefore I say unto you, Take no thought for your life, what ye shall eat, or what ye shall drink; nor yet for your body, what ye shall put on. Is not the life more than meat, and the body than raiment? Behold the fowls of the air: for they sow not, neither do they reap, nor gather into barns; yet your heavenly Father feedeth them. Are ye not much better than they? (Matthew 6:25–26)
7. I have not received the Spirit of fear and bondage but the Spirit of adoption and love. God doesn't hold you at arm's length, waiting for you to prove yourself worthy of His love. He welcomes you, nurtures you, and loves you.
For ye have not received the spirit of bondage again to fear; but ye have received the Spirit of adoption, whereby we cry, Abba, Father. (Romans 8:15)
8. The Holy Spirit comes to my weakness. Many Christians think that God is repulsed by their weakness. Nothing could be further from the truth. God is drawn to our weaknesses, and the Holy Spirit comes to us at our lowest points to offer help and intercession. 
 Likewise the Spirit also helpeth our infirmities: for we know not what we should pray for as we ought: but the Spirit itself maketh intercession for us with groanings which cannot be uttered. (Romans 8:26)
9. Death is swallowed in victory. We may not know how this year will end, but we know what happens for us after the end. The final chapter for the Christian is always victory.
So when this corruptible shall have put on incorruption, and this mortal shall have put on immortality, then shall be brought to pass the saying that is written, Death is swallowed up in victory. (1 Corinthians 15:54)
10. God will never leave me. How would you view the challenges in front of you differently if Jesus was physically and visibly standing next to you? He is with you. And He has promised He's not leaving. Not today, not tomorrow, not this year, not this lifetime. 
Let your conversation be without covetousness; and be content with such things as ye have: for he hath said, I will never leave thee, nor forsake thee. So that we may boldly say, The Lord is my helper, and I will not fear what man shall do unto me. (Hebrews 13:5–6)
These ten truths are probably not new to you, but they are easily overlooked in our moments of challenge and distress. 
So remind yourself of them. Print them out. Save them to your phone. Post them at your desk or on your refrigerator. 
We can live by faith, or we can live by feelings. Living by faith is as simple as hearing and remembering the promises of God. 
So then faith cometh by hearing, and hearing by the word of God. (Romans 10:17)