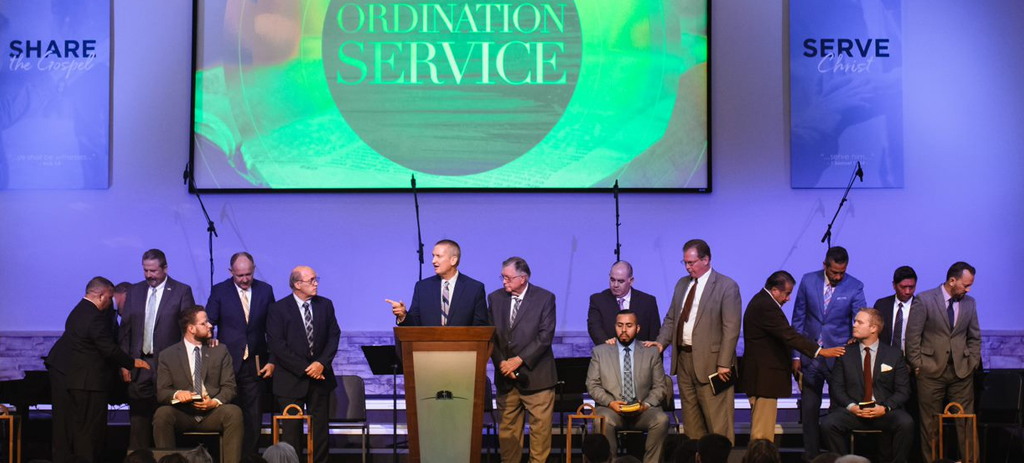 The picture above is from two weeks ago and represents one of those moments that makes me so grateful we began West Coast Baptist College twenty-six years ago. 
The three men being ordained are all WCBC graduates, and they were ordained at the church where they are now serving in ministry—Faith Baptist Church in Canoga Park, California, with Pastor Tim Rasmussen. From left to right (and with their graduation year in parentheses), 
Kip Williams (2012) is serving as an associate pastor and media director.

 

Jesse Lanza (2019) is serving as a pastoral assistant in Spanish ministry.
Joseph Rasmussen (2020) is serving as an assistant pastor in children's ministries.

 
All three of these men (as well as their wives, who are also WCBC graduates) had exceptional testimonies through their college years. All three have shown evidence of the calling of God upon their life through their diligence to and fruitfulness in local church ministry. 
To the glory of God, these three men are representative of nearly three thousand WCBC graduates serving the Lord around the globe. I'm blessed each time our graduates share how God is using them and the fruit they are seeing in their ministries. 
Because WCBC is a local church Bible college, it is uniquely positioned to train laborers for local church ministry. Not only is WCBC under the oversight of Lancaster Baptist Church, but its founding purpose is "training laborers for His harvest."
As a local church Bible college, we are particularly aware that the students who come to WCBC are the fruit of local church ministry before they ever enroll in Bible college. Each student represents a pastor and local church who have labored in their lives. We are grateful to enter into the labors of home pastors and, in many cases, Christian parents who have spiritually nurtured their children. 
Jesus gave one prayer request: 
Therefore said he unto them, The harvest truly is great, but the labourers are few: pray ye therefore the Lord of the harvest, that he would send forth labourers into his harvest. (Luke 10:2)
Every student who comes to WCBC is an answer to the prayers of those who are praying for this request. And every student who graduates from WCBC is equipped to carry out the Great Commission of Christ through a local church in the harvest fields of the world. 
If you are considering ministry training, I invite you to consider WCBC. Here at WCBC, we have several ministry degree programs, all designed to train Christians to change the world with the gospel of Jesus Christ. 
If you are a WCBC alumnus, I want to let you know how thankful I am for you and how I rejoice when I see fruit abounding in your life. 
If you are a pastor investing your life in the local church, I want to encourage you to keep planting the seed of the gospel. Keep praying for God to raise up more laborers through your ministry. "And let us not be weary in well doing: for in due season we shall reap, if we faint not" (Galatians 6:9).
Keep sowing seeds. Keep praying for more laborers. 
Fruit abounds where seeds are planted.