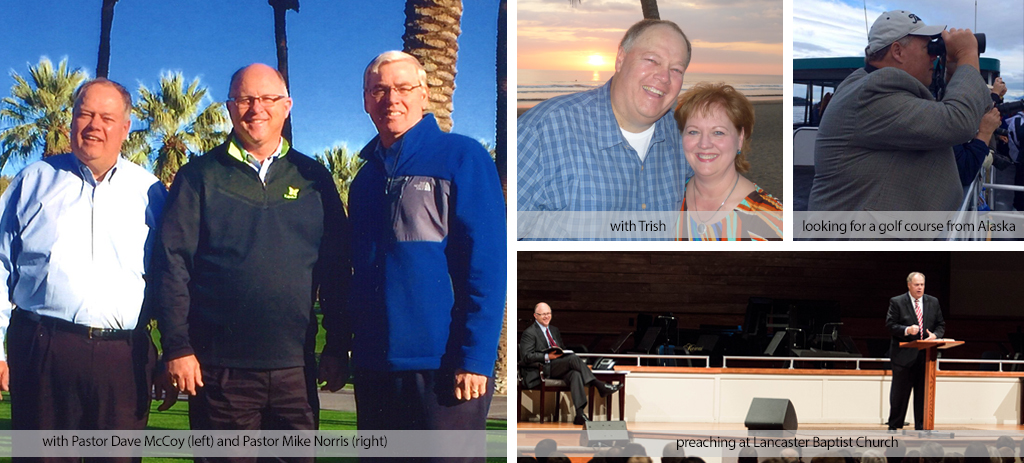 The first time I preached at People's Baptist Church in McDonough, Georgia, was in 1993, just before Dave McCoy (at that time the associate pastor) was called by the church to serve as the senior pastor. Since then, I have preached there many times. Pastor McCoy and his wife, Trish, have become dear friends to Terrie and me. 
So, it was with great sadness that Terrie and I learned of Pastor McCoy's Homegoing today. As many of our friends across the country know, both he and Trish have been fighting Covid for the past few weeks—her from home and he from the hospital. I can't imagine the joy it must have been for him to be transported from a ventilator where he was fighting for every breath to the very presence of Christ. Even so, I already feel the personal loss of his friendship. 
I have treasured Pastor McCoy's friendship for many reasons, but a few that immediately come to mind…
Preaching: I really enjoyed preaching for and with Pastor McCoy. Not only did he invite me to preach at People's Baptist Church over the years, but he preached for us at Lancaster Baptist as well as at Spiritual Leadership Conference. He and I sometimes preached together at other conferences around the country, including the Nationwide Independent Baptist Fellowship that he hosted. Pastor McCoy loved God's Word, and he loved preaching it. Even over the past several years as his physical challenges have mounted (including multiple sclerosis and then leukemia) and he has had to be more careful with his strength, he has prioritized the preaching of God's Word. 
Witness: I had the privilege of traveling with Pastor McCoy on multiple occasions, including when he was one of the preachers for an Alaska cruise West Coast Baptist College hosted a few years ago. Whenever I was with Pastor McCoy—whether on a cruise ship or in a fast food restaurant, he was always ready to be a friend to and share the gospel with anyone who didn't know the Lord. On the Alaska cruise I mentioned, we had the privilege of seeing several crew members trust Christ as Savior. 
Golf: Anytime I was with Pastor McCoy, one thing I could always count on was at least being given an invitation to play golf. Pastor McCoy loved golf. And even though I teased him about it, I did appreciate his modeling the balance of including recreation in a pastor's schedule. And I have a few cherished memories of fellowship those times we did play golf together. 
Family: When it came to priorities, Pastor McCoy was good at placing a high value on his family. Yes, he would spend and be spent in the work of the ministry. But he loved Trish, their daughters Meredith and Monica, son-in-law Seth, and their grandchildren Aven, Juliet, and Cade. And every one of them knew it. 
Joy: Pastor McCoy had such a fun sense of humor, and I know I speak for many of us when I say, we loved to be around him for that reason. But as a friend, I knew that his laugh went deeper than his fun-loving nature. Even as he carried burdens of ministry and, as I already mentioned, difficult health challenges, he drew his joy from the Lord, and it was the joy of the Lord that was his strength. 
Faithfulness: The sovereignty of God is sometimes mysterious to us. This past Sunday marked forty years of ministry for Pastor McCoy. I wish for his sake and for his church family's sake that they could have celebrated this special day together. Yet, I am thrilled for my friend to make it to this milestone and then hours afterward enter Heaven to hear His Lord say, "Well done, thou good and faithful servant…enter thou into the joy of thy lord" (Matthew 25:21).
I encourage you to pray with Terrie and me for Trish, the rest of the McCoy family, and People's Baptist Church.