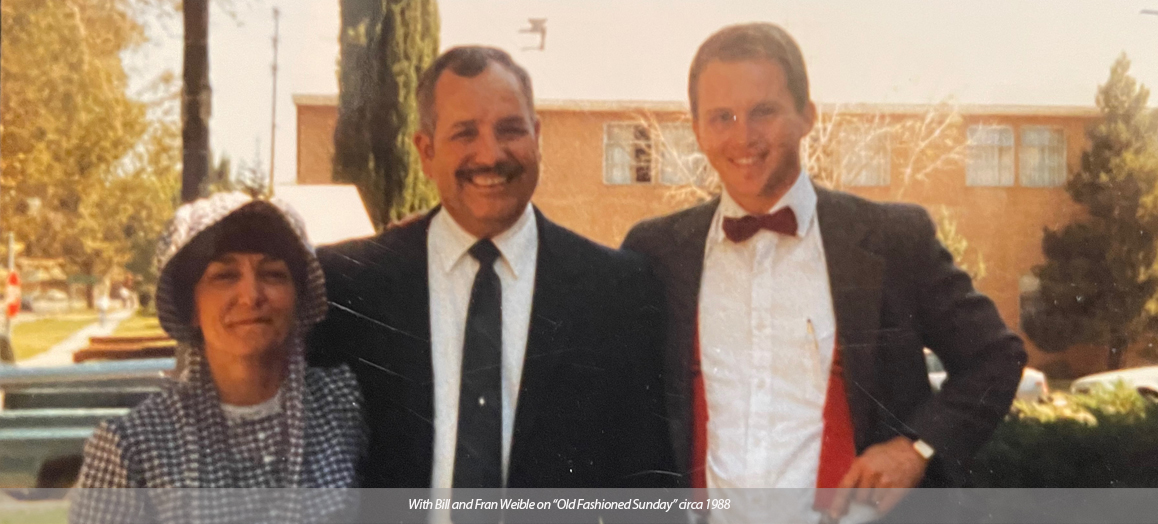 Thirty-five years ago this spring, a small congregation in Lancaster, California, learned that yet another pastor was moving on. The church had dwindled to a handful of people, and the frequency of pastor rotations didn't help inspire confidence among the struggling congregation. 
That was the year that a group of twelve members called me to be their pastor at Lancaster Baptist Church. Bill Weible was one of those members. 
I was twenty-four years old when Terrie and I moved to Lancaster. I was eager to see God bless and I came planning to stay. But I had no idea how challenging the road ahead would be. Just in the first few weeks of our ministry in Lancaster, there was unexpected opposition, vandalism, the threat of foreclosure, outstanding debt, and more. 
But in those first few weeks, there was also a faithful man named Bill Weible who encouraged his new pastor. 
I would say that Bill will never know how much his encouragement meant to me then and has meant to me over the years. But the Lord called Bill to Heaven several days ago, and my guess is that God is even now giving him a glimpse of the impact of his faithfulness. 
Today, I conduct the memorial service for my friend. As I have been considering the deep impact of his life, I have been reminded of how Bill's traits were the traits of a godly, faithful man. In a sense, they are traits that every Christian man can possess.
He stayed. I remember Bill telling me how challenging it was when a pastor would come, stay several months or a couple years, and then leave—only for the process to repeat with the next pastor. I'm thankful the Lord has allowed Terrie and me to stay in Lancaster. But what I'm not sure Bill could fully appreciate is how meaningful it has been to us that he stayed. 
Bill could have moved multiple times. He had a good job. At times, moving could have advanced his career. But he planted his roots in his church, raised his family in it, and saw his grandchildren come to Christ in it. Additionally, his faithfulness over the years greatly encouraged me.  
He supported me. I don't think a Sunday night went by but that Bill Weible didn't find me in the lobby to say hello and tell me that I had preached a great message. And I know there were messages when those comments were more encouragement than truth! 
I remember in the early years of our ministry when I was trying to determine if it was time to hire a staff member, begin a building project, or take some other step of faith. Bill would always encourage my faith. Over thirty-five years, anytime I mentioned to him that I was praying for God's direction on a step of faith, he would say, "Well, Pastor, if God is leading you to do it, we support you in it." It is not an understatement to say that our church campus and the buildings the Lord has raised up on it and the staff the Lord has brought together would not be present had it not been for Bill's support along the way. 
He supplied. Bill didn't just say words of encouragement; he gave generously to further the work of Christ through our church. And he didn't do it in a proud or controlling way. He gave because he loved the Lord and he loved the work of the Lord. 
Sometimes Bill and I would cross paths in the parking lot after a service, and he would often look around at the facilities the Lord has helped us to build and say, "Isn't God so good to us?" There was something so simple and pure in his joy that it gave direct glory to the Lord. 
He was a soulwinner. The first Sunday night we were in Lancaster, I invited our small church family to join me in reaching our community with the gospel through door-to-door witnessing or soulwinning. Bill was one of the first to begin going out with us, and he remained faithful in soulwinning over the next thirty-five years. Bill was a witness to his co-workers and neighbors, but he also set aside time every week to join his church family in coordinated outreach efforts. The Lord used Bill to bring many to Christ. 
He served others. Bill served as our first deacon and continued serving in this ministry until the Lord called him Home. The word deacon means "servant," and Bill filled that definition in an exemplary way. He ministered to our church family, visited widows, and brought spiritual strength and insight to our deacons' meetings. Every Sunday, you would find Bill in an ushers jacket helping to welcome and seat people arriving for church. Bill's quiet, faithful servant's spirit touched many lives—including his pastor's. 
The Lord has blessed our church family with many godly men. I pray He will raise up many more. But I will always be thankful for Bill's influence on my life, his encouragement to his pastor, and his faithfulness to the Lord and his church family.