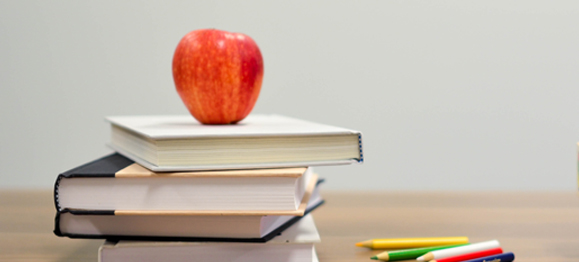 My life has been influenced, informed, and molded by Christian education. As a student, I greatly benefited from Christian education. And since beginning Lancaster Baptist School in 1989, I have labored as a teacher, parent, administrator, and pastor to weave the mind of Christ and a Christian worldview throughout the educational process.
That's why this summer our administration has worked diligently with parents, attorneys, teachers, doctors, and government agencies to keep our Christian school open in this needy hour. I have conference called with Secretary DeVos at the White House and had a weekly call with administrators from other Christian schools. Even now, as we wait for waivers, guidance, and court rulings, I am moving forward with a plan for education in our schools, and we are working with many other schools as well.
Why is this so important?
1. Children are the heritage of the Lord. 
Lo, children are an heritage of the LORD: and the fruit of the womb is his reward.—Psalm 127:3
We do not believe it is primarily the state's responsibility to train children. Children are a treasure from God entrusted to the care of parents to raise for God. Thus, parents are accountable to God for every decision they make regarding the care and raising of their children.
2. Parents are commanded to train their children. 
And, ye fathers, provoke not your children to wrath: but bring them up in the nurture and admonition of the Lord.—Ephesians 6:4

Train up a child in the way he should go: and when he is old, he will not depart from it.—Proverbs 22:6
Bringing up a child in the nurture and admonition of the Lord is not a passive endeavor. It's not something toward which a parent should take a "wait and see" attitude. This is an area in which we, as Christian parents, must be proactive and involved as we raise our children in the ways of the Lord.
3. The church is commissioned to teach biblical truths to the next generation. 
Go ye therefore, and teach all nations, baptizing them in the name of the Father, and of the Son, and of the Holy Ghost: Teaching them to observe all things whatsoever I have commanded you…—Matthew 28:19–20

And the things that thou hast heard of me among many witnesses, the same commit thou to faithful men, who shall be able to teach others also.—2 Timothy 2:2
As important as the Christian home is in the life of a child, the church also carries a responsibility to disciple and teach its members. In this way, a local church-based Christian school serves as a "teaching arm" of the church and provides an education that is Bible-based and Christ-centered. Such Christian schools provide a place of academic learning for children that strengthens their faith and establishes their hearts in God's ways.
A biblical Christian school is something far more than an opportunity for Bible class or chapel. It provides a type of discipleship in shaping a Christian worldview as students learn—in history, economics, math, English, science, and more—to apply God's principles and see life through a biblical perspective.
4. The Scriptures affirm tutors and teachers having a role in education and discipleship.
Now I say, That the heir, as long as he is a child, differeth nothing from a servant, though he be lord of all; But is under tutors and governors until the time appointed of the father.—Galatians 4:1–2
Christian homes in the first century employed teachers and mentors whom they asked to help in the process of educating their children. Thus, it is entirely biblical for a father or mother, at their discretion, to allow their children to be taught and influenced by mentors and teachers who have godly Christian testimonies.
5. A threefold cord is not easily broken. 
And if one prevail against him, two shall withstand him; and a threefold cord is not quickly broken.—Ecclesiastes 4:12
Like a strong rope made of multiple cords, good influences weave together in the hearts of children to bring stability and keep them from evil. I believe that a godly family who is faithful in a biblical church and working with a Christian school makes a strong trio for raising Christ-centered children.
6. Christians are to avoid voluntarily sitting in the seat of the scornful. 
Blessed is the man that walketh not in the counsel of the ungodly, nor standeth in the way of sinners, nor sitteth in the seat of the scornful.—Psalm 1:1
The modern public education system is greatly influenced by the humanistic philosophies shared in the Humanist Manifesto. (I detailed these in the booklet The Value of Christian Education, Striving Together Publications, 2011, pages 25–29.) The anti-God and anti-biblical worldview of many public educators is something a discerning Christian parent will avoid.
7. It is vital to train children early in biblical principles to follow in years to come.
And that from a child thou hast known the holy scriptures, which are able to make thee wise unto salvation through faith which is in Christ Jesus.—2 Timothy 3:15
As the Apostle Paul wrote to Timothy, he pointed out that the biblical truths instilled in Timothy at an early age—from a child—had been meaningful in Timothy's life. Our goal as parents must not be to raise well-behaved, knowledgeable boys and girls. Our goal must be to raise Christ-centered, thoroughly-prepared adults. The influences we put in their lives as children have incredible potential in leading them on a path of biblical principles for years to come.
Christian parents must have convictions of faith that Christian education is a calling—a responsibility—in their roles as parents.
Over the years, I have seen that parents of Christian school students either play the part of consumers or of partners. And the differences between the two will be particularly meaningful this fall.
Consumers are preference driven. If something isn't preferentially comfortable, a consumer will seek other outlets of education.
Partners are co-laborers in the faith. They see themselves laboring arm-in-arm with those serving their children as "laborers together with God" (1 Corinthians 3:9) and "striving together for the faith" (Philippians 1:27). Partners work together with school administrators and teachers to help provide the best academic, social, and spiritual education possible.
Many in America hate the Christian school movement and the Christ-centered applications of knowledge it provides. For the sake of the next generation, for the sake of the faith, let us prioritize Christian education this fall.