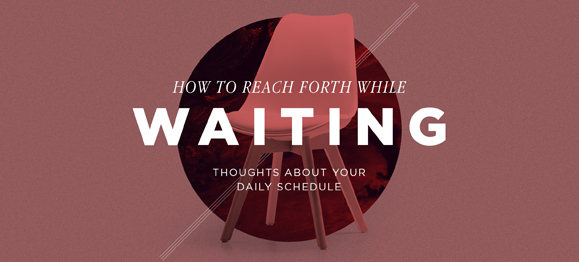 It's hard to believe how much has changed in the three months since we entered 2020 and our church began the theme "Reaching Forth." 
The theme phrase comes from Philippians 3:13, "Brethren, I count not myself to have apprehended: but this one thing I do, forgetting those things which are behind, and reaching forth unto those things which are before…"
But when I chose it back in the summer of 2019, I had no idea how our life routines would be interrupted in the spring of 2020 by COVID-19. Here we are now, many of us under shelter-in-place orders, thinking about "reaching forth"!
Let's remember though that the apostle Paul penned these words while under Roman imprisonment, most likely house arrest. 
So if you feel that you are under "house arrest," trapped in your own home, or if you're wondering how you can make real progress during this period of waiting, I'd like to suggest eight daily activities: 
Thoughts for Your Daily Schedule:
1. Rise on schedule. Set an alarm, and get up and dressed. It will set the tone for your day.
2. Reach out to God. Study His Word, worship Him, and give thanks for your blessings. 
3. Exercise. Take a walk, do an in-home exercise program….keep moving.
4. Work in place. If you're working from home, finish projects and commitments; stay accountable. If you're home but not working, choose a project to tackle—perhaps something you've always wanted to do but never had the time.
5. Reach out to others. Stay in touch with neighbors, the elderly, and your church family.
6. Minister grace to your family. Make this a time when you draw closer to one another, giving one another grace. (I preached on this topic Sunday evening. You can watch or listen to the message here.) 
7. Discipline your media impact. Limit your screen time; govern content biblically. If you watch the news all day, you are likely to become anxious and depressed. 
8. Rest. Physically, get sleep. Spiritually, rest in the all-wise, all-good sovereignty of God.