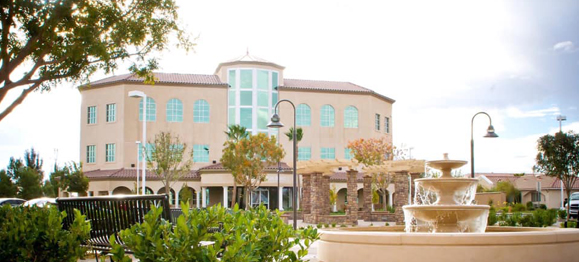 As we celebrated Thanksgiving last week, I thought often of West Coast Baptist College alumni serving in gospel ministry around the world. 
Indeed, it's humbling to think about all that God has done through the graduates of West Coast Baptist College in these past twenty-five years. Since WCBC opened its doors in the fall of 1995, the Lord has allowed our family of alumni to grow to over 2,800 servants of Christ. 
I think of how the Lord has used so many of them to make an eternal difference for His glory, and I'm thankful to have the opportunity to invest in their lives. 
Alumni, of course, begin as students. Every one of our alumni who are today faithfully preaching the gospel, loving souls, and committed to standing for truth was once a student…and most likely a student working and praying month-to-month to see their school bill met. 
This year, for Giving Tuesday, we would like to invite you to help relieve the burden and build the faith of a student at West Coast Baptist College by contributing monthly to either the needy student fund or to the college general expenses.
What Is Giving Tuesday?
Giving Tuesday is the Tuesday after Thanksgiving and is a day when people around the world take the opportunity to give to charitable causes.  
What Is The Goal?
Our 2019 Giving Tuesday is an effort to sustain the college and needy students through our monthly giving program. 
Our goal is simple: we're asking everyone to commit $5 or $10 as a monthly gift to help enable WCBC to continue to provide outstanding education for Christian servants. 
You can give to one of two funds:
College expenses: Tuition alone does not cover every expense. In fact, it covers only 80 percent of general expenses. Your participation will directly influence the work graduates will accomplish throughout a lifetime.

 

Needy students: Because West Coast Baptist College does not accept government funds, many students struggle to finish due to financial needs. Your gift along with many others will literally be God's answer to the prayers of a diligent student, and together we will have an impact on the world for the cause of Christ.
How Can You Have an Impact?
There are multiple ways in which you can participate and join this effort: 
Give. This goal will take the combined resources of many likeminded individuals. You can give your one time or monthly gift directly through our website at wcbc.edu/givingtuesday.

 

Share the need. Consider sharing this post or the college's page (wcbc.edu/givingtuesday) on your social media channels or with a friend. By doing so, you are helping this effort move forward and assisting students to succeed.

 

Pray. We covet the prayers of God's people for His continued hand of blessing on our ministry as we endeavor to raise a generation who will make a difference for Christ.
God has truly been good to us as we have seen many laborers go into His harvest. I believe your investment in the lives of these students will have an eternal impact. Will you partner with us?