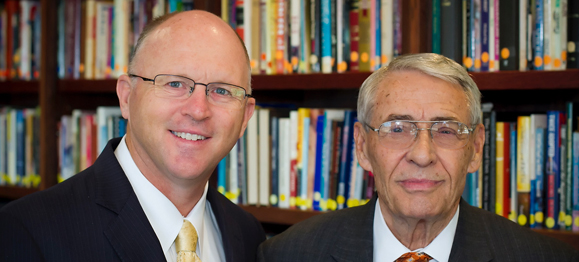 Dr. Bobby Roberson, a faithful servant, great pastor, and a friend to pastors across America, went home to be with the Lord this past Monday. To say that he will be greatly missed is an understatement.
Over the years, I've been privileged to spend time and preach with Dr. Bobby. He would often preach at Lancaster Baptist Church (here is a video of him praying for our church family), West Coast Baptist College, and Spiritual Leadership Conference (including this past year, when he preached on "Dying to Self"). I've had the opportunity to preach for him at Gospel Light Baptist Church as well as with him at various conferences.
Every time I've been with him, I've been encouraged and challenged by his walk with the Lord, humility, and friendship. He's had a tremendous influence on my life in many ways, and I wanted to share a few of those as a tribute to my friend:
1. Faithfulness and Longevity—In 1956, at the age of twenty-four, Dr. Bobby Roberson became the pastor of Gospel Light Baptist Church in Walkertown, North Carolina. Five years later, at the age of twenty-nine, he suffered a heart attack. I've heard him tell how in the twenty-one days he spent in the hospital, he went from over 200 pounds to 145. Besides the burden of his physical health, there was trouble in the church, and he didn't think he could go on. He lost his appetite, dreaded preaching, and told his friend and mentor, Dr. Harold Sightler, "I feel like I'm about to die if I stay there."
But he did stay there. He stayed for sixty-two years. And God has used his faithfulness to not only build a church, but also to challenge and encourage hundreds of preachers to be faithful through the times of testing.
I imagine the joy it must have been for Dr. Bobby this past Monday to be called from his place of faithfulness to the very presence of Jesus and hear, "Well done, thou good and faithful servant" (Matthew 25:21).
2. Taking a Stand on Biblical Principle—One of my favorite memories of Dr. Bobby is from several years ago when he invited me to preach at Gospel Light Baptist Church and he was taking me on a tour of some of their new facilities. I was outwardly admiring the facilities and inwardly being impacted by the fact that he, nearly in his eighties, had continued dreaming and building all these years.
We walked by a bulletin board that had a poster tacked up for a musical group that would be holding a concert nearby. The group didn't sing the type of music Dr. Bobby would have thought appropriate for church or encouraging of Christian sanctification. He stopped to read the poster, ripped it off with a flourish, and said to me, "Brother Paul, you can't ever stop watching and guarding the church." It was the kind of moment that was both surprising and humorous…and that left an impression.
In all seriousness, the fact that Dr. Bobby was sixty-two years in one church and didn't change his convictions or position over the years, but stood strong with a gracious spirit, is remarkable. For over six decades, he followed the admonition of Acts 20:28, "Take heed therefore unto yourselves, and to all the flock, over the which the Holy Ghost hath made you overseers, to feed the church of God, which he hath purchased with his own blood."
3. Compassion—One of the longest and largest ministries at Gospel Light Baptist has been the bus ministry. Every Sunday, hundreds of children and teens whose parents don't attend church and who are often from depressed areas with rough homes ride one of over forty buses to church. Many are saved each year, and all are shown the love of Jesus by their pastor and bus workers.
But Dr. Bobby didn't just oversee a bus ministry. He was involved in it. He loved those bus children, and he showed it to them. Many times, I've seen a little child who rode the bus to church run up to him for a hug or to show him a prize from class or share a special event from the week. Every time I was humbled by his compassion and care.
4. Soulwinning—Here again, Dr. Bobby practiced what he preached. Not only did he lead his church in faith-filled, strategic outreach, but he personally shared the gospel with people one on one.
I remember another time when I was preaching at his church as we were walking across the parking lot he saw someone he didn't know. He stopped to meet him, asked him if he knew the Lord, and led him to Christ right there in the parking lot. He was never too busy or preoccupied to care about a lost person and take time to share the gospel with them.
5. Burden Bearing—It was amazing on Monday to see how my Twitter stream filled up with pastors across the country sharing how Dr. Bobby had been a friend to them and how they would miss him.
He was a true, burden-bearing friend to me over many years as well. I know the Lord used the heart attack and breakdown Dr. Bobby suffered in his twenties to give him a level of compassion and a depth of perception for the needs of other preachers that is rare. I was never with him—in person or on the phone—but that he encouraged me in the Lord.
Today, not only are there hundreds of pastors across the nation that miss their dear friend, but there is a family and a church family who misses their dad, grandpa, and pastor. Please pray for them.
The details for Dr. Bobby's homegoing service are below:
Visitation: Thursday, February 15, 3:00–9:00 p.m. (EST)
Memorial Service: Friday, February 16, 2:00 p.m. (EST)
Both services will be held at
Gospel Light Baptist Church
890 Walkertown Guthrie Road
Winston-Salem, NC 27107
May the Lord use Dr. Bobby's influence in our lives to graciously stand for truth, continue faithfully in loving, serving, preaching, and witnessing, and being a burden-bearing friend to God's people.