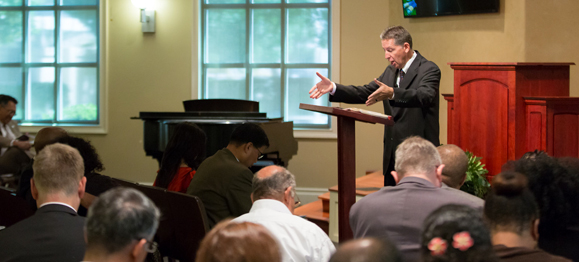 Most Baptist churches have adult Sunday school classes. But sometimes churches think of them only as a teaching ministry of the church. They are that. But they can be so much more.
We've called our classes by different titles over the years—Sunday school, Adult Bible Fellowships, and, more recently, Connection Groups. But whatever their title, their purpose has been integral to the ministry of our church.
There are four core needs that an adult Connection Group is in a unique position to meet. These are four qualities we ask our class leaders to provide:
1. Acceptance
When people visit a church for the first time, they often wonder, Do I really belong here? A Connection Group can provide a welcoming environment of love to every person who walks in.
Additionally, acceptance is the optimum environment for growth. Even after someone is no longer a guest and is a growing Christian, they need a group of people who, while challenging them to grow, will also love them where they are.
2. Availability
This aspect of adult classes is increasingly important as a church grows. When the church has fifty or one hundred in attendance, it is relatively easy for the pastor to be available to every member and guest.
But as a church grows, the pastor may not even be an early point of personal contact. Having class leaders who are willing to be accessible is important.
3. Accountability
We ask our adult teachers to call, visit, and be sure they are staying in touch with their class throughout the week. If someone is absent, they should know they were missed. When someone is growing, they should be encouraged by a spiritual leader.
Class leaders should know who in their class have been through discipleship, who is regularly serving in a church ministry, who needs encouragement to more faithful attendance. They should be the ones to invite members to go soulwinning with them and to encourage trained soulwinners to mentor a new soulwinner.
4. Activities
Christian fellowship is important to spiritual growth. As a church grows, it becomes more difficult to have all-church activities. (We have completely given up on these!) Adult Bible classes, however, can enjoy recreational, family-friendly time together in an atmosphere that is godly and helpful to spiritual growth.
It may be a meal after Sunday evening service in one of their homes, or a Friday night game time, or something specific to the age, life stage, and interests of that class. Whatever it is, activities can provide fellowship; and fellowship can encourage spiritual growth.
If you are a pastor or class leader, consider how your classes are doing in meeting these four needs:
Acceptance: Does every person who comes into your class know they are welcome and wanted?
Availability: Does your class know how to reach you? Are you responsive to their needs?
Accountability: Are you following up on absentees? Are you staying in touch with class members throughout the week?
Activities: Are you providing opportunities for good Christian fellowship?
These four needs are part of healthy local church life and, in so many words, describe what we see taking place in local churches throughout the New Testament.
They certainly should occur in a variety of ways across the spectrum of church life. But the adult Bible class is one of the best places to be sure all four are being met.